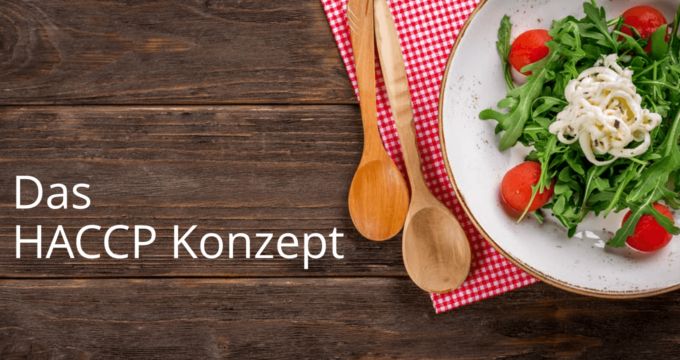 In this blog post we would like to explain the HACCP concept and show how you can create your own HACCP concept. As a food processing company you are obliged to prepare an HACCP concept for your company and you have to stick to it. Many small companies are facing a big challenge here – for this reason we would like to support you in the creation.

The HACCP concept
What does the HACCP concept mean? HACCP means Hazard Analysis Critical Control Point. The concept behind it describes how exactly this risk analysis must look and how the analysis can be implemented in the company. There are different influencing variables that must be taken into account in the concept. These influencing variables can be:
Corporate guidelines
Laws and statutes
Customer's needs
Product requirements
Our HACCP concept must therefore meet different stakeholder requirements in order to ensure safety in the processing of food and to keep possible risks to a minimum. The concept aims to identify as many factors as possible that could affect food purity. Subsequently, measures are to be determined to eliminate these risk factors.
Contents of the HACCP concept
As mentioned above, the exact HACCP concept depends on the type of business you have and who your stakeholders are. However, on the basis of legal requirements, the following content can be considered as a MUST standard, which must at least be included:
Perform risk analysis
Different physical, chemical or biological hazards can endanger food safety. These risks must be identified, analysed and countermeasures developed.
Identify food safety checkpoints
Only regular controls during the food production process can identify, minimize, prevent or at least reduce risks or dangers. So you need to identify points in your process where you can easily perform controls. A good example at this point is e.g. the temperature control.
Define intervention limits at the critical control points
After you have identified and defined the control points in your processes, you must now determine the upper and lower limits that must not be exceeded or undershot. To stick to the example of temperature control, this is the minimum and maximum temperature that the product must have. Only when a limit is exceeded does intervention have to be taken.
Determine monitoring procedures for the control points
You have identified the checkpoints and defined the limits – now you need to define and describe exactly how you want to monitor the critical control points (CCP). In our example, this would be based on a thermometer. With our 4-check app you can digitize and simplify the monitoring of your control points.
Develop corrective measures
There will most likely come a moment when a control point you have set is/is out of tolerance. Now you must have determined beforehand which corrective measures are necessary to ensure optimum operation again.
Determine evaluation measures for the efficiency control of the HACCP concept
No system and no concept is perfect. In order to take this circumstance into account, should you always question and check your concept yourself? Perhaps your HACCP concept is too rigid or too inflexible in some places? Maybe it's not practical? You should check all these factors regularly. You must describe exactly how you do this in the HACCP concept.
Creating Documentation
The law requires proper documentation, but that's not the only reason why you should document all processes precisely. To maintain the so-called knowledge spiral in your company, documentation is indispensable. There is always a certain fluctuation of personnel and so that knowledge in your company is maintained and not lost, you should have a great interest in the documentation.
Frequently asked questions about the HACCP concept
In our daily work in and with the companies, some questions arise time and again. At this point we would like to answer the most frequently asked questions. Should you have any further questions about HACCP, please do not hesitate to contact us.
Who needs an HACCP concept?
Every company that processes food must introduce an HACCP system (incl. HACCP concept) in accordance with EC Regulation 852/2004. Typical examples of companies with an HACCP concept are:
Bakeries
Butcher's shops
Restaurants/Hotels
Cantines
Food service provider
Retail trader
What does a HACCP concept cost?
The costs for an HACCP concept can vary greatly – but are usually in the four-digit range for medium-sized companies. Customers can benefit from the know-how of specialized consulting companies that can provide professional support with standardized processes. An initial consultation is always free of charge and serves to estimate the approximate effort. Through our partner network, you benefit from the fact that we can work together with companies from different areas and offer industry-specific concept solutions. You should make sure that you contact specialized consulting firms that specialize in your industry. This is the only way to ensure that you receive individual solutions that are needed in your industry.
Are there any HACCP templates?
In most cases you are not the first to need HACCP templates. For this purpose we have created an extensive database in our QM-Wiki, where you can download all kinds of HACCP templates free of charge.
Who can support me with my concept?
Every industry has very individual requirements. To this end, we have sought (and continue to seek) partners to assist you in your particular case. In our partner database you will find our current partner companies. The easiest way is to contact us so that we can find the right partner for you.
Are there known problems?
It is often noted that the HACCP concept means a disproportionate documentation effort for small companies. However, food from small businesses can also be harmful to humans. In fact, the one-time effort should not be underestimated. However, if the concept is developed and implemented correctly and in line with practice, it is regularly manageable. It should also not be forgotten that the company can be closed during official inspections should there be any complaints. The time and effort required to reopen the plant is many times higher.
What are the benefits of the HACCP concept for my food safety?
The benefits for food safety can be:
Legal requirements are met
Risks of food diseases or food poisoning are minimized or prevented
Improves the shelf life of food, reducing your costs
Your competitiveness is increased
The customer confidence is strengthened, whereby new customers can be won
Explanation videos on HACCP
To give you an even better understanding of the topic, we have selected some explanatory videos on HACCP and HACCP concepts, which we link to you here. They are very well suited to get an initial overview of the broad subject area simply and conveniently.
What is HACCP?
HACCP training video