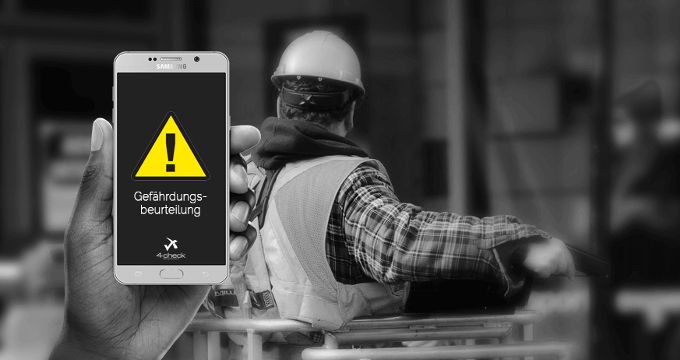 Risk assessment is a systematic procedure for identifying and analysing health and safety hazards at the workplace. In this article we would like to deal with the preparation of the risk assessment. We also answer the most important questions from customers and Internet users on the subject.
1. What is a risk assessment?
A safe workplace is the top priority. In order to achieve this goal, the legislator has imposed various conditions which are anchored in the Occupational Health and Safety Act. One measure taken to ensure occupational health and safety is risk assessment. The aim is to identify hazards to life and limb at an early stage so that preventive protective measures can be introduced. It is important to distinguish between hazards and no hazards:
"The term hazard, in contrast to danger, refers to the possibility of damage or impairment to health without specific requirements as to its extent or probability of occurrence."
The probability of a hazard occurring is higher than that of a hazard. When assessing the probability, it is important to ensure that the probability of a hazard to life and limb can be assessed more highly than that of a tangible asset.
1.1 Legal requirements for risk assessment in Germany, Austria and Switzerland
Germany, Austria and Switzerland require that potential hazards to people at their workplace be known. The countries have to anchor the legal obligations in various laws and regulations. These include
Germany
Austria
Switzerland
EU
2. How do I create a risk assessment?
The legislator does not say anything about the exact scope of a risk assessment – only a risk assessment must be available for each activity carried out. The scope is simply based on the operational requirements and the local conditions. In doing so, you should look beyond the core tasks of your company: the consideration of secondary processes – usually cleaning and maintenance work, for example – is also part of a complete risk assessment.
2.1 Classification into hazard groups
Before you get started and take on and analyze various activities, you should familiarize yourself with the different risk groups. In general, 11 different hazard classes are distinguished in a risk assessment. This makes it easier for you to keep an overview. However, do not forget that hazard classes can be very company-specific! You must therefore list special hazards for your company individually – the important thing is simply that you know the hazards. The following hazard classes are generally used:
Mechanical hazards
Electrical hazards
Hazardous substances
Biological hazards
Fire and explosion hazards
Thermal hazards
Threats caused by physical agents
Threats posed by working environment conditions
Physical loads
Psychological stress
Other hazards
2.1.1 Example of a division into risk groups
Now start to take up all activities in your company. In a particular case, you have to decide what exactly an activity looks like. An activity could be, for example, working on a lathe. What hazards could arise when working with a lathe? These would be mechanical hazards, because your employee could squeeze his hands on moving parts. There could also be a physical strain if the employee has to clamp heavy materials for processing. If the machine is very loud, then there is also a danger from physical influences – noise.
2.2 Assessment of hazards and classification into risk groups
After you have included all activities and assigned them to a risk group, you must perform a risk assessment. In a company, hazards of varying degrees are determined. How high the degree of hazard is can be defined by the existing risk of an occurrence – high and low are of course relative and must be evaluated. The "highest acceptable risk" can be used as the basis for assessment. The highest acceptable risk is usually determined by the companies together with the various groups of people who support them in preparing the risk assessment. It is very important here that the assessment of the "highest acceptable risk" also involves those groups of people who will subsequently be working in the vicinity of the hazard. However, the highest acceptable risk is also partly specified by the legislator: for example, there are permitted limit values in the area of noise emissions which must not be exceeded.
When assessing the highest acceptable risk, always make sure that in the event of a legal dispute you always state how you came to the assessment of the risk. It is therefore important that you have always questioned all those involved and documented the result.

As you can see from the risk matrix below, there are different types of probabilities of occurrence. These are related to different types of injuries.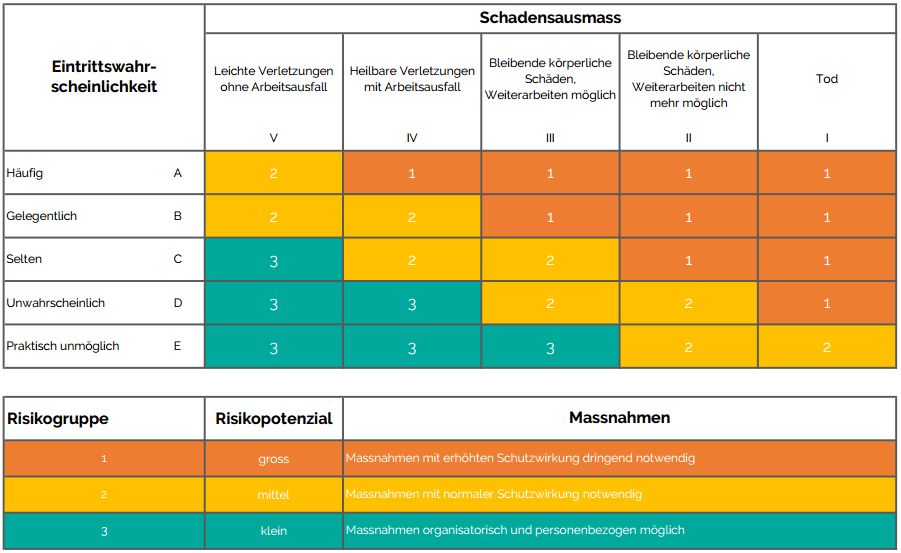 Now assign all the activities included to the corresponding risk Groups.
2.3 Preparation of protective measures and objectives
If you know the hazard levels of all activities in your company, you must then initiate measures to reduce the sources of danger. But don't be too stormy and think carefully about what you want to prevent: should the colleague mentioned at the beginning of our example no longer make a certain movement as part of his job, or should the machine not offer any possibility of squeezing his hands at all (this would be a protective goal)? While the process would be quickly adapted, a structural measure on the machine would be more expensive, but in the long run a more sensible investment.
2.4 Documentation
In the context of legal certainty and increased transparency, it is imperative to document all processes and work steps. In today's age of digitalization, however, it is no longer appropriate for you to walk through the company with paper and pencil. In the meantime, there are several providers who (in addition to 4-check) also offer various apps on the subject. The legislator does not dictate how you have to document.
3. Questions on the subject of risk assessment
We have looked around the community on the subject of risk assessment, conducted various SER and SEO analyses and would like to answer the most frequently discussed questions below:
When must a risk assessment be carried out?
Of course, the risk assessment should not be carried out once only. It should be carried out regularly within the framework of occupational safety. A risk assessment should be carried out if:

Activities will be commenced
Significant changes occur during operation
It is part of continuous occupational health and safety
Inspection intervals for work equipment are defined.
The results of occupational health precautions demand it
Incidents and accidents have occurred
Accidents at work, near-accidents, illnesses or excessive absenteeism are present
Who may carry out a risk assessment?
The performance of a risk assessment requires expert knowledge of the operational work processes as well as of the assessment of risk factors and possible protective measures. Internally, you can implement this if you have competent personnel in your company. Externally, there are many contact points that offer support, such as specialists from safety services.
Who is responsible for risk assessment?
In principle, the person who commissions the performance of an activity – as a rule, this is the superior.

What should a risk assessment look like?
As already mentioned, there are no documentary requirements – only that you have to document them. To make it easier for you to prepare a risk assessment, we have provided a template for preparing a risk assessment in our QM Wiki.

Why does a risk assessment have to be carried out?
To ensure occupational safety, the superior has a duty to ensure the protection and safety of his employees. He can only do this if he knows all the dangers for his employees. The employer has a supervisory and control duty and must, if he is not in a position to do so himself, call in competent persons to carry out a risk assessment.

4. Template for preparing the risk assessment
In order to make it easier for you to work with your risk assessment, we have created a suitable and free template for you. Of course you can adapt this template to your needs. You will find these, among many other templates, in our QM Wiki for free download.