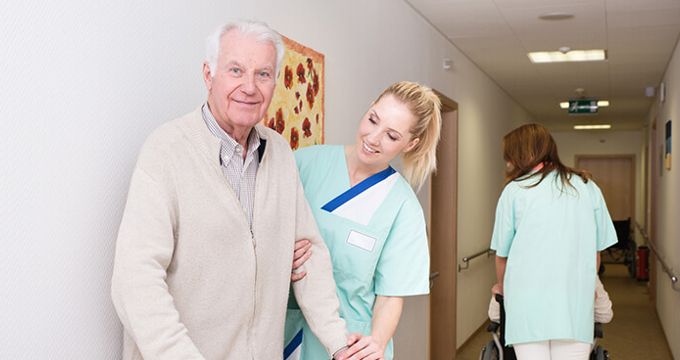 Sensitive areas such as nursing require a high degree of quality assurance measures – including so-called nursing rounds. But what does a nursing round involve? What should I consider and which tools can I use for a professional nursing round? We explain this to you in our blog post today.

What is a nursing round?
The term "nursing round" has been used in literature since 1980. At the beginning of the 1990s, the term was then defined more clearly:
Nursing rounds are an instrument in the quality management of professionally performed nursing care for the sick or the elderly.
Of course, there are also legal framework conditions that specify and explain the nursing rounds in more detail. Art. 4 of the Nursing Act and §3 of the Nursing Act for the Elderly require care that meets the requirements of an expert, comprehensive and planned service. The following points must be observed:
Know how to care for the patient
Get comprehensive information about the patient, e.g. during a conversation – this can also be a simple small talk
Plan further maintenance steps based on this information
How is the nursing round structured and what does it contain?
First of all, a round/visit is nothing more than a visit and a component of quality assurance in nursing. Usually you visit the patient at his or her bed. Regular visits are intended to identify problems in nursing care at an early stage so that measures can be initiated if necessary. In both outpatient and inpatient care, this can lead to more independent and efficient care.
One of the main problems is that people who are suddenly in hospital, for example, have to give up their usual rhythm of life. Temporal habits such as personal hygiene, eating and sleeping are suddenly subordinated to a different rhythm. Nurses are now responsible for helping people to ensure that important things are not neglected – this needs to be controlled and documented.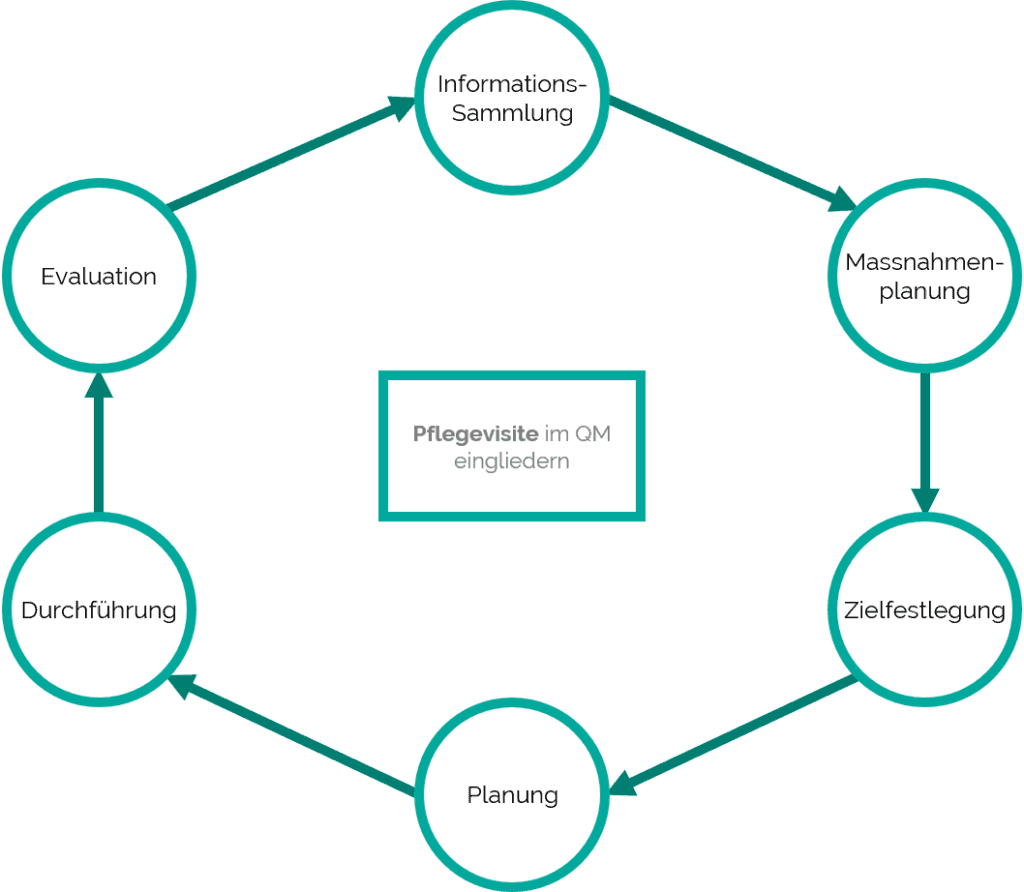 The nursing visit is both a control and monitoring instrument. As a simple tool, it enables managers to monitor the care process. The visit should not serve as a means of pressure or coercion – rather, it should help the entire staff to improve the nursing process. At the same time, it can provide important insights into whether restructuring measures would help to increase resident and employee satisfaction.
It is a small part of quality assurance. The following additional measures must also be taken in addition to the nursing visit:
Internal quality assurance
Nursing rounds
Environmental visits
Audits
Quality circle
Resident and employee surveys
(Team-)Meetings
Family talks
External quality assurance
Certifications
MDK controls
QS conferences
Health insurance discussions
(Home) supervisory controls
Authority controls
Performance and quality certificates (LQN)
How is a nursing round carried out?
The nursing round/visit is, as already mentioned, a regular visit of the patient in order to determine the nursing process within the framework of a conversation. It serves that purpose:
Identify care problems
To define nursing goals
Identify and initiate nursing interventions
Check nursing progress
Contents of the implementation
Checking the basic data
Checking the condition of the room
Control of the care documentation
As with all nursing activities, it is important to document your nursing rounds. As long as nothing happens, everything is fine. However, it becomes problematic in disputes. They are then obliged to provide evidence. Therefore, make sure right from the start that all nursing rounds are well documented. Of course there are countless tools – especially apps – that you can support (4-check). If you are looking for a template for your nursing rounds checklist, you can easily download it from our QM wiki.
Conclusion
The main aim of the nursing rounds is to maintain the quality standard of nursing care at a consistently high level. Furthermore, it is an elementary component of patient loyalty and should therefore also be seen as a social instrument that must be given sufficient time.
Additional information (german)
In order to further facilitate your introduction to the topic, you will find here further useful links to publications and specialist articles on the subject of nursing rounds.